Jay County Public library offers the Indiana Room for use in genealogical research. Many print resources are available, including local histories, directories and family history documents. Microfilm of census and local newspapers can be viewed and printed (15¢ per copy).
Two computer stations in the Indiana Room provide tools for research, including Ancestry Library Edition, HeritageQuest and Internet access limited to useful genealogy sites, software for creating documents and publications, and access to pdf files of recent local newspapers and an obituary index. This index provides the date in which the deceased person's obituary appear in the local newspaper The Commercial Review or its predecessors.
Research requests are honored as staff time allows at a fee of $10 per hour, plus 15¢ per photocopy. Contact the library by phone at 260-726-7890 or by email.
Genealogy Classes
Introductory classes in genealogy research are offered from time to time.  Learn the basics of using resources available at the library and how to begin to organize the results of your searches.
Next class offering: to be announced
Online Databases Offered by the Library for Genealogy Research

Ancestry Library Edition is available for use inside the library, using either the library's Internet computers, Indiana Room genealogy research computers, or your own device when connected to the library's wifi.
Ancestry Library Edition is a genealogy research tool created for library users. It gives instant access to a wide range of unique resources for genealogical and historical research. With more than 5 billion names in over 3,400 databases, Ancestry Library Edition includes records from the United States census, military records, court, land, and probate records; vital and church records; directories; passenger lists, and more. Similar information is also available for the United Kingdom, Canada and some European countries.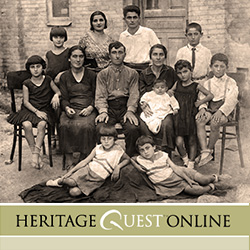 HeritageQuest Online is available for use inside the library and remotely with library card and password.
Beginning and professional genealogists can use this powerful online resource to trace family histories and American culture from the convenience of their home or at the library.
Linking you to more genealogy resources
Looking for information from the library's local area?
Jay County Historical Society has offices, collections and a museum at 903 E Main Street in Portland, Indiana.
INGenWeb Project Page for Jay County, IN Genealogy
Contains many local resources.
Below are some of the web sites shared in materials from the genealogy class.  They appear in alphabetical order with a brief description.
Allen County Public Library Genealogy Center – the second largest genealogy collection in the U.S.
Ancestors Home Page – a family history and genealogy television series with links to much more.
Birth Date Calculator – Older tombstones have only the death date and age at death.  To calculate the birth date, visit this site.
Bureau of Land Management – Federal Land Patent Records
Cyndi's List of Genealogy – Over 40,000 links. categorized & cross-referenced, in over 100 subject categories.  A clearinghouse of genealogy links.  Be prepared to spend a lot of time.
Ellis Island Immigration – records from 1898-1924
Family History Library – The Church of Jesus Christ of Latter-Day Saints, world's largest collection of genealogical holdings.
Find a Grave – Find locations for graves of family as well those famous and noteworthy.  Complete with pictures.
Genealogy Online – Directory, links to useful web pages
Genealogy SiteFinder – Cooperative effort between Genealogy Toolbox and Family Tree Maker Online.  Identifies over 34,000 categorized and cross-indexed online genealogical sites.
History of the Great Lake States – Free online books, articles and maps for research and reading in genealogy, family history, and local history in Illinois, Indiana, Michigan, Ohio and Wisconsin.
Indiana State Library – Genealogy Collection and database information
Library of Congress National Digital Library – "American Memory" section has historical images from around the country.
National Archives and Records Administration – National records of all types.  Census records, American Indian tribe information.  Pre-1850 Marriage Database, Indiana Cemetery Database and much more.  Link specifically for genealogists
Roots Web Genealogical Data Cooperative – Surname index and much, much more.
Treasure Maps – A great place to start.  A section on "Getting Started," writing a successful query, a tutorial on deciphering old handwriting, and more.
Vietnam Veterans Memorial Wall Page
Your Family – Index to surname homepages:  will generate a list of webpages associated with a particular surname.
Have a Genealogy Question?
We can tell you more about our genealogy resources or answer general local history questions. Call us at 260-726-7890 or use the form.
More detailed research requests are honored as staff time allows at a fee of $10 per hour, plus 15¢ per photocopy.