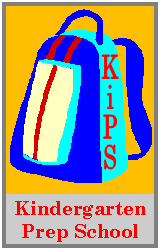 KiPS is a get-ready-for-school summer program for children entering kindergarten in the fall. Children registered for the program come to the library one morning a week to explore six skill areas: Art, Music, Reading, Math, Large Motor Skills and Fine Motor Skills & Writing. Scroll down the page to see a list of activities for each week in the different areas.
The Children's area buzzes with activity every Tuesday morning through the summer. Certified teachers and teachers from local preschools lead sessions along with certified library staff. Instructional assistants, group leaders and other volunteers help out with each small group of children.
Help with transportation is offered by the Jay School Corporation.
The library partners with the Jay School Corporation to offer KiPS. Additional sponsors the Friends of the Library and The Portland Foundation. If your organization would like to lend support, please contact Linda Shreve at the library.
Our 2020 KiPS was held virtually due to the COVID-19 Pandemic. You can access each weeks lesson on the library's YouTube Channel.
 Any bus transportation issues must be cleared with both the bus garage (260-726-9605) AND the library (260-726-7890).
Questions or concerns about anything? Call Linda at 260-726-7890 or email.
SPECIAL NOTES for parents of KiPS kids.
Remember to send the folder back with your child each Tuesday! The items inside are yours to keep, but we'll add more each week. Don't send a backpack. We won't be using them here and they are easily forgotten. Don't send any toys, food, or drinks from home.
ANY TIME your child will not be attending a KiPS session, please let us know. Just call us at (260) 726-7890 or email to let us know. If your child rides the bus, please let your bus driver know by calling them or the bus garage at 260-726-9605.
Due to the movement in gym, it is very IMPORTANT for your child's safety that they wear gym shoes, not flip flops or Crocs, please. If gym shoes are a problem, then sandals with straps would work.
Children are dropped off at the library's front door no earlier than 8:50 am. However, at pick up time parents must come into the library building to pick up their children at their assigned area. Park in the main parking lot and come into the building. Check the list as you enter to see where you'll find your child and wait there until your child is dismissed. Bus riders must be dismissed first so they can safely board without extra traffic.
VERY IMPORTANT TO REMEMBER:
At Drop Off:
Pull up as far as you can in front to make room for as many cars as possible.
Drop-off diagram
At Pick Up:
Bus riders are dismissed first. No other children will be dismissed until the buses have gone. Park and come in to pick up your child but PLEASE DON'T PARK IN THE BUS LANE.
Questions or concerns about anything?
Call Linda at 260-726-7890 or send us a message!