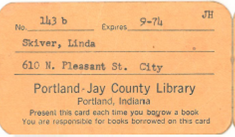 Some second-graders were at the library for a tour. I talked to them about libraries in general and shared what the library was like when I was a child.
"You walked up these great big steps, and when you got to the top, you went in, and there were more steps.  It was huge, and it was quiet.  Very quiet.  So quiet that if you whispered, you felt you were being too loud.
"I would go to where the children's books were and pick out about a dozen books.  Then I'd take them to the circulation desk, show the librarian my library card, and she would stamp them and write the due date in them.  Then I'd quietly walk back down the gazillion steps and leave.
"We didn't SPEND TIME at the library, except to look for our books.  We checked them out and left, finding a nice cool, quiet place at home to read them."
Times change.  Libraries have changed!
Now the library is a destination.  People come here to SPEND TIME.  They look for books like I used to, but they stay and play computer games or search online using the library's computer or free wifi on their own device.
Kids often put on a puppet show, play at the train table, or examine the I Spy case.  Adults will check out the music and the movies, play a board game with their child (Trouble anyone?), or just sit and read in a cool, quiet place.
They might drop in every morning to read the newspapers and to see who else might be here doing the same.  They might balance their check book while their children put a puzzle together.  They might have a meeting with a colleague while their children play with Lego bricks at a near-by table.
Some will "rent" the Community Room and hold a baby shower or a birthday party.  An individual might secure it to sell their Tupperware or 31 at a party.  Our small meeting rooms might host a meeting of the local cancer society or just be a quiet room where a nursing student can spread out as he studies for his exams.
The library is a hopping place, with something going on all the time.  It's a cool refuge in the summertime.  It's a warm place to seek out in the wintertime.  It's a great place to curl up with a book on a rainy day.
Why don't you come and SPEND TIME with us?