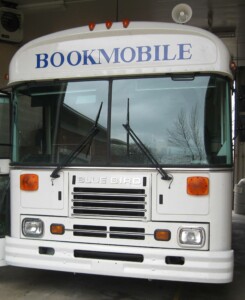 We're extending bookmobile service into July! Summer schedule begins June 12 and runs through July 25 with no Bookmobile on July 4.
Check out and return items, apply for a library card (bring ID and contact information), participate in the 2019 Summer Challenge, and pick up a schedule of the library's summer programs.
We've adjusted the schedule a bit so take a look and see when we are coming your way.
Wednesdays
Jay Community Center at 115 E Water St in Portland
9:00 to 11:00 am
East Jay Middle School at 225 E Water St in Portland
11:00 am to 1:00 pm
Thursdays
Bryant Wesleyan Church at 209 S Hendricks (US 27) in Bryant
9:00-10:45 am
General Shanks Elementary School at 414 E Floral Ave in Portland
11:00 am to 1:00 pm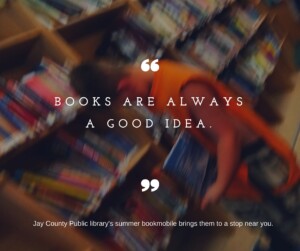 New stops made for new views and new surroundings for the bookmobile.