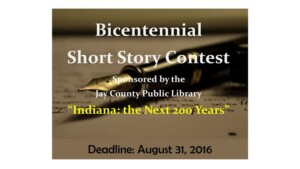 Thank you to everyone that submitted stories for our Bicentennial Short Story Contest imagining Indiana in the future. And a big thank you to our judges who volunteered to read and score the entries.
The top three story awards were given to:
Amie Johnson, for "Authentic Indiana"
Coyla Coblentz, for "The Animal Plagues"
John Sobieski, for "Indiana 2116"
Amie & Coyla have given us permission to post their stories here for you to read so enjoy this glimpse into Indiana's future as they see it.