Are you ready for a challenge?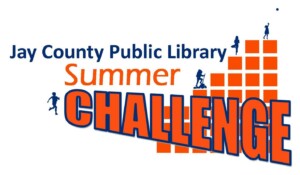 for kids, teens and adults May 16th through July 2nd, 2016.
Take the challenge!
Pick up a registration form at the library and return the completed registration form to the library or the bookmobile now through June. Register soon for your best chance of success.
Start keeping track of your points on the Activity Card you'll receive upon registering.
Bring it to the library when you've made 25 points to get your tickets and the next card. Complete all four cards for a total of 100 points and you've met the challenge.
Each time you turn in a card you'll get five tickets to drop in our raffle prize buckets as you please. You'll also get a vote in the Community Goal (see below).
Anyone who finishes all four cards and meets the Challenge will receive a Summer Challenge T shirt and be entered into the Grand Prize Drawing for their age group. Kids and teens will also receive a book/prize bag. All finishers are invited to the Summer Challenge Grand Finale Event July 7th.
Finish your 100 points and turn in your last card by July 2nd.
More activities –
You'll see on the Activity Cards that you can earn 2 points for each library program you attend.
Check our events calendar or take a look at the pages of summer programs offered for teens, kids and adults.
More about the prizes –
Grand Prize for Adults includes exercise DVDs, a Patriot Sports gift card, a Fitbit and a 2016-2017 Jay County High School Sports Family Pass.
Grand Prize for Teens is a Fitbit.
Grand Prize for Kids is a small trampoline big enough for a couple of friends.
More about the Grand Finale event –
Grand Finale Event is Thursday, July 7th from 6:00 to 7:30 p.m. at the Jay County High School Auxiliary Gym where prize winners will be announced. There will be physical and mental games for all and healthy snacks to enjoy.
Note to parents:  only kids who complete the Challenge receive a book/prize bag, but siblings are welcome to come and play at the Grand Finale.

Sponsors have pledged $500 to divide among three local organizations:
Pregnancy Care Center          Youth Service Bureau          Jay County Cancer Society
Complete an Activity Card and get to vote for your favorite.
Organization with the most votes gets $300, runners-up $100
The 2016 Summer Challenge is generously supported by Delta Theta Tau, First Bank of Berne, Portland Kiwanis,
Portland Lions Club, Portland Rotary, Morning Optimists, Evening Optimists, FCC Indiana, Gamma Nu, Tri Kappa, Psi Iota Xi, Bollenbacher and Associates, MainSource Bank and the Friends of the Jay County Public Library.