One year, the library offered a Back to School celebration for parents—stop in for donuts and coffee and juice after dropping your kids off for this new school year!  It sounded like a good idea, but no one came.
Maybe no one wanted to celebrate.
Maybe parents were happy to have the kids gone and wanted to go home and enjoy the peace and quiet by themselves.
Maybe they were too sad and just wanted to be alone in their unhappiness.
How do you feel about your kids going back to school?
I'm always a bit sad that the carefree days of summer have to end.  It always seems that there was more we were going to do this summer.  Now school, homework, sports schedules, a little of this, a little of that are the focus, and any summer plans we might have had are set aside as we get into our new routine.
My youngest child is now a senior, and that's a difficult thought for me to wrap my mind around.  I still remember dropping her off at kindergarten—wasn't that just yesterday?
She's not sure what lies ahead, but she's getting there.  She knows that she wants to do good things and knows that getting a quality education is how she'll be able to make that happen.  We've encouraged that since she was young, as we did for all our children.
Nelson Mandela agrees.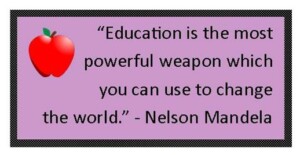 So maybe we should embrace the new school year, look at it as a positive thing, with our children actively learning so they can change the world.  I think most people could agree that the world could certainly do with some changing, especially for the better.
Maybe it will be your child who leads the way!