Add this to the list of things I didn't know I would be doing when we moved into the new library building in 1996:
designing a library-themed indoor mini-golf course to celebrate its 20th anniversary.
The all-on-one-floor accessibility in this building is in my favor. The building it replaced 20 years ago would have presented an even bigger challenge with its four overcrowded levels and open stairways, not to mention the water hazards from a leaky roof and windows and a basement prone to flooding.
So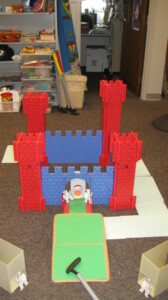 I've been exploring the storage areas for extra props and equipment. It's interesting to see what librarians keep for future use, packed among the craft supplies and extra shelving and seasonal decorations. The castle from 2007 (or was it 2006?) was a great find.
Now I'm laying out some preliminary bits back in the staff area and testing out whether the holes will work.
So far there's no telling what par will be for this course. My personal putting ability is pretty limited.
Crossing my fingers that we'll have all nine holes laid out ready for the public to putt their way around the building on Friday, October 21st from 1:30 to 5:30 pm.
Library mini-golf fun in the stacks. Just another of the 20 things in 20 days to celebrate 20 years through the Jay County Public Library doors at 315 N Ship Street in Portland, Indiana.