It's that time of year when "The Best of…" lists appear. Some lists are wonderful and breathtaking like the Best Photos of 2016 from National Geographic.
Other lists, not so worthwhile… "16 Worst Predictions of 2016" (Spoiler, they are political predictions.)
So I took it upon myself to try to find what the "Best Reads of 2016" were among the JayCPL Staff. Believe me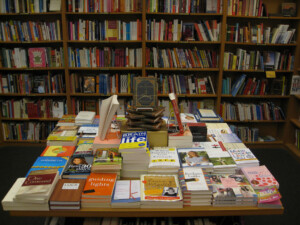 this was a hard task to undertake because 2016 has been a long year with that extra day they threw in at the end of February. So I asked my coworkers to think back through the year and give me up to five of their favorite reads from 2016. Here are the results:
Linda's Top Reads:
The Gilded Hour, by Sara Donati
The Book that Matters Most, by Ann Hood
Truly Madly Guilty, by Liane Moriarty
Secret Life of Violet Grant, by Bertriz Williams
My Name is Lucy Barton, by Elizabeth Strout
Terry's Top Reads:
Where the Wild Things Bite, by Molly Harper (Part of the Half-Moon Hollow series)
Dragon Fall, by Katie MacAlister (First in the Dragon Fall fantasy series)
Leah's Top Reads:
Cross the Line, by James Patterson (Part of the Alex Cross series)
Lowcountry Wedding, by Mary Alice Monroe
Two by Two, by Nicholas Sparks
The Cowboy Bride Collection, an anthology of stories by various authors
Robin's Top Reads:
My Grandmother asked Me to Tell You She's Sorry, by Fedrick Backman
Furiously Happy, by Jenny Lawson
You are a Bad Ass, by Jen Sincero
Lost & Found, by Brooke Davis
Cindy's Top Reads:
The Poet's Dog, by Patricia MacLachlan (a book perfect to read with your kids or grandkids)
All the Light We Cannot See, by Anthony Doerr
A Great Reckoning, by Louise Penny (Part of the Chief Inspector Gamache series)
The High Mountains of Portugal, by Yann Martel
The Road to Little Dribbling, by Bill Bryson
Joyce's Top Read:
You've Got to Read this Book, by Jack Canfield (A great book that leads to other great books)
So, did you find anything you have read in the lists? If you liked it then maybe give one of the others from that list a try. If you would like to share one of your favorite reads from this year please post it in the comments section. One reader who comments before the end of 2016 can pick up a free Christmas Collection book from Max Lucado at the library.
Let me sign off by sharing my top reads of 2016 (so far):
Cheryl's Top Reads:
Louisiana Saves the Library, by Jenny Beck Cogburn
Because I am Watching, by Christina Dodd (Part of the Virtue Falls series)
In Such Good Company: Eleven Years of Laughter, Mayhem & Fun in the Sandbox, by Carol Burnett
City Baker's Guide to Country Living, by Louise Miller
'Til Death Do Us Part, by Amanda Quick