Let's play a little Summer Challenge [insert name of popular TV quiz show here].
If the answers are:
Fin
Final.
Finally!
Finale!!!!
The questions must be:
What is the French word for end?
Which week is this in the Summer Challenge?
Are you finished with all four Challenge activity cards?
Where will finishers celebrate meeting the Challenge?
[dramatic voice announces]
And now your Final [insert name of popular TV quiz show] answer is:
July 7th from 6:00 to 7:30 p.m. at the Jay County Public Library Auxiliary Gym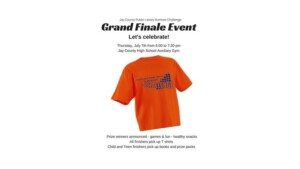 [cue theme music]
Here's hoping your question is
"When and where is that Grand Finale Event I'm coming to?"
See you there (finally)!