Yes, we all have to grow up sometime but there is fun to be found in our childhood memories and too often we consider these simple joys as being childish and having no place in our adult lives. Why is that? Does the addition of years change us to the point where we can no longer enjoy the activities that we did when we were younger?
Granted, at my age I will not strap on a pair of roller skates again and go whizzing around a gym floor to the best songs of the early 80's but I still find joy in sitting down with a coloring book and colored pencils.
If you have followed national trends on relaxation and stress relieving you have certainly heard about the popularity of Adult Coloring Books. These books are flooding the market and come in a variety of styles. There are Doctor Who, Harry Potter, Game of Thrones, Sherlock, and Outlander books along with books filled with patterns, mandalas, animals and flowers.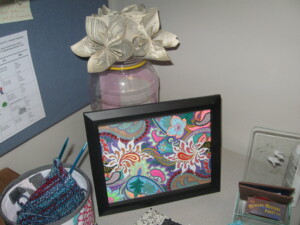 Adult coloring books usually include very detailed illustrations that allow for precision and blending of colors to create unique art work worthy of displaying. I know because I have 3 of them framed and in my office to provide bursts of color in an otherwise beige box.
Maybe coloring isn't one of you enjoyable childhood memories. I recently had the chance to do the "Hokey Pokey" with a group of older adults and the laughter wasn't just because we couldn't "shake it all about" like we use too, but also because once again we were able to feel free like a child.
So, while I hope we have all left childish attitudes behind us, I encourage you to find that same joy you had as a child doing something fun and unexpected. If coloring is your thing, I invite you to come to one of the library's Coloring Parties or have a Saturday morning cartoon marathon in your pajamas with a DVD of classic cartoons, or maybe pick a favorite children's book and read yourself a bedtime story. Bring the joy of childhood into your adult life.
Want to color with company? Meet a coloring book creator? Come to a coloring party at the library on Monday, March 21st. Drop in any time between 4:30 and 6:30 pm. There will be another party on April 18th too – same hours.

Cheryl Lucas
Adult Services Librarian