UPDATE:  Winners have been named!
How much time do you spend thinking about the future?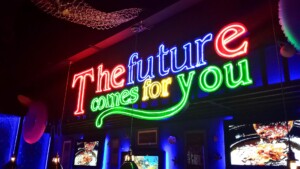 Do you have a 5 year plan, a 10 year plan or are you just trying to figure out what to do tomorrow?
The Indiana Bicentennial Celebration this year will be filled with opportunities to remember the past and celebrate the many wonderful things about Indiana, but what will the next 200 years bring us?
I encourage you to let your imagination run wild as you think about Indiana in the year 2216 and what life will be like.
Will we revert back to pioneer type life with a loss of all technology?
Will technology finally invade all areas of life and take over?
Will the knowledge of today make a difference in the future?
Create your own story version of Indiana in 2216 and enter it into the Jay County Public Library's Bicentennial Short Story Contest.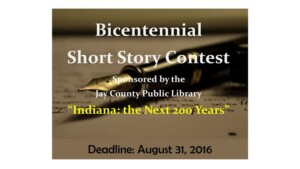 Submissions will be accepted from May 23rd through August 31st, 2016 in three age categories:
Middle school (2016-2017 year 5th-8th grader)
story length 1,001-5,000 words
High school (2016-2017 year 9th-12th grader)
story length 1,001-5,000 words
Adult (ages 18 and up)
story length 1,001-10,000 words
Each entry should be accompanied by a cover sheet (printable here) which includes space for identification details. Do not include any personal identification on the actual story, only on the cover sheet.
Judging will be based on spelling & grammar, story structure, character & plot, creative use of theme, and emotional engagement.