Pick your favorite team and cheer on the musher and dog team through the famous sled race on the Iditarod Trail in Alaska. Let's race!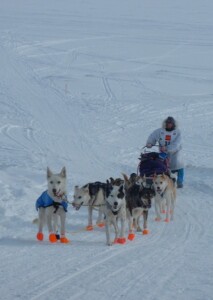 The Iditarod 2017 kicks off with ceremonial start on March 4 with actual racing beginning March 5. We'll be LIVE streaming video of the racing experience throughout the event at our "Iditarod Headquarters" display not far from the circulation desk. Follow your favorite mushing team as they are tracked at checkpoints on our map.
Throughout the month of March we'll have lots of Iditarod-inspired activities. At the end of the month (spring break for our local schools) we'll have a solid week of great activities. Scroll down to see the list or check our events calendar.
On Saturday, April 1st at 10:00 am you can meet a real live musher at the library.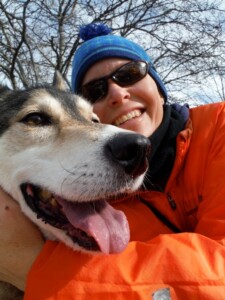 Trekking almost a thousand miles across the rough terrain of Alaska pulled by a team of dogs sounds like a monumental undertaking.  But that is what Karen Land challenged herself to do when she stepped onto the rails of her sled as a musher in the Iditarod.
Land, an Indiana-native, found her love of the dogs and the sport while working as a writer covering a sled dog race. She soon met  Dr. Terry Adkins and began working for him as a dog handler in 1999. Her own racing career began in 2002, completing three consecutive Iditarod races.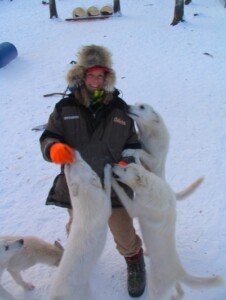 Karen now is a writer and speaker, traveling across the country presenting her stories about her mushing experiences in schools and libraries. Her engagements have amounted to more than 1,000 talks in 529 locations in 26 states.
Karen and one of her dogs will bring her presentation about her experiences here to the library as a finale to our Iditarod events. Meet her in the Community Room, Saturday, April 1st at 10:00 am.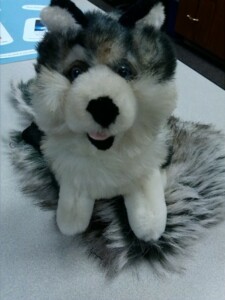 Through March watch the streaming race, pick your favorite team, and Find the Husky as the little stuffed dog hides around the library—you'll get a little prize if you tell us where he is.
Donate to the Pet Rescue (we're accepting donations for the animal shelter) and keep your eyes open for Musher Madness, a live action game.
At the end of March (spring break!) enjoy a full week of activities:
Monday, March 27 it's an Iditarod Craft from 10:00 am—2:00 pm  Drop in as you are able and give it a try.
Tuesday, March 28 is Building Day: Your choice of building sets out all day and Family Movie: "Balto" at 2:30 pm.*
Wednesday, March 29 is a Family Movie: "Snow Buddies" at 12:30 pm* and Iditarod Crafts 2:00 pm-5:00 pm
Thursday, March 30 come Build Your Own Igloo from 2:00 pm-5:30 pm and Family Movie: "Iron Will"  @ 6:00 pm*
Friday, March 31 is Game Day. Cure the end-of-break boredom fun and games any time from 10:00 am-6:00 pm.
Saturday, April 1 is the Karen Land Iditarod Event at 10:00 am.
*Children 10 and under MUST be accompanied by an adult when attending movies.