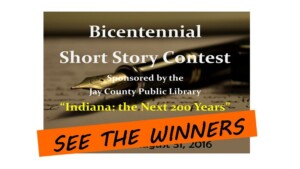 Thank you to everyone that submitted stories for our Bicentennial Short Story Contest imagining a fictional Indiana 200 years from now.
Thanks also to our judges who volunteered to read and score the entries.
The top three story awards were given to:
Amie Johnson, for "Authentic Indiana"
Coyla Coblentz, for "The Animal Plagues"
John Sobieski, for "Indiana 2116"
The authors have given us permission to post their stories here for you to read so enjoy this glimpse into Indiana's future as they see it.